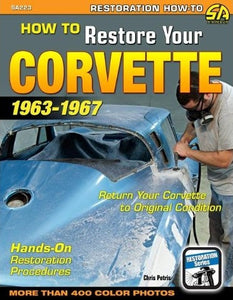 Petris Enterprises
How to Restore Your Corvette: 1963-1967 - Color Photos Optional Autograph
GET YOUR COPY AUTOGRAPHED FOR FREE WHEN YOU ORDER FROM OUR STORE!
(Please use the "Add a note for seller" box on the checkout page to request a particular message.)
How to Restore Your Corvette: 1963-1967 by Chris Petris
The 1963-1967, or Midyear Corvettes, are among the most popular Corvettes of all time. This book offers exceptional step-by-step information in color and focuses on real-world restoration techniques. In addition, it contains essential authenticity information and key considerations involved in the restoration process. It covers all aspects of the restoration process, including engines and drivelines, bodywork, paint, interior and trim, suspension, brakes, chassis, and steering.
Corvette owners are a discriminating group and you are shown how to restore your car and retain the originality of the car within practical budgets. Whether you would like to try and tackle your own restoration, or simply want to know how the successful pros like Petris do it, this Restoration Series title has you covered.
---
More from this collection