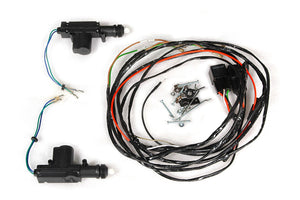 Petris Enterprises
1968-1977 Corvette Power Door Lock Installation Kit
Are you tired of trying to manually unlock or lock your early C3 Corvette doors?
Our power door lock system allows you to easily unlock and lock your 1968-1977 Corvette doors and it is compatible with the majority of keyless entry and alarm systems. Another major benefit of power door locks is preventing scratches at the door lock cylinder area.
This kit is specifically for 1968-1977 Corvettes, 1978-1982 Corvettes had a factory installed power door lock option, they require additional components along with this kit to add power door locks.
We are providing a power door lock system that will require a keyless entry, alarm system, and/or switches (not provided) to control the power door locks once installed. We install power door locks in many of our customers' vehicles; some owners want a switch and keyless entry. Other owners wanted the added convenience of using just the keyless entry system. To date we have not installed any door lock control switches in door panels to prevent door panel modifications. If desired, we typically install one door lock control switch in the center console. One centrally mounted switch makes sense in the Corvette cockpit area as the driver and passenger have easy access. Another consideration is that the keyless remote will be in the ignition switch and can be easily accessed for door lock operation.  
An on-off-on momentary switch that will handle a 2 amp load is required. We do not supply the switch due to the custom nature of this installation.
Kit Contents:
2 – power door lock actuators
2 – door lock actuator linkage rods
2 – door lock linkage to actuator adapters
1 – power door lock harness
1 – power door lock actuator installation hardware kit
2 – power door lock actuator placement templates
NOTE: Our power door lock harness is set up for the most common + 12-volt pulse keyless entry or alarm system. If required, we can configure it for a negative pulse system at no additional charge. Our system also has two 5 pin relays built into the harness that the typical 2ma pulse keyless entry or alarm system requires.
Additional parts may be required to route the power door lock harness into the doors from the door pillar posts. Power window equipped 1968-1977 Corvettes have rubber conduit connectors for the power window harness to pass through from the door pillar to the door. These can be used to route the door lock wire harness to the actuators in the doors. There is adequate room for the power window and door lock harnesses. We have the rubber conduit available for $24.00 per pair if required.       
Although we are providing information on the installation of this product, we recommend the use of the factory service manual for removal and installation instructions of all components.   
DOWNLOAD Installation Instructions    
---
More from this collection